Are you missing an SEO trend that could change your business? The answer is always yes. If you are acquiring customers through SEO, when Google evolves, you need to evolve.
What are the trends that you should watch over then?
Mobile-indexing

Most of the users are mobile-first when it comes to search. We realized it and created mobile versions of our site. Google was using the desktop versions to index content. So if you searched for "coffee" in your smartphone, you would be looking at desktop results.
Google now is using your mobile version to index your content, so there is a match between the user's device and the results.
Take the Mobile-Friendly Test to test your site's mobile version.
Mark up content items
One advantage that Facebook Graph had over Google was content-type indexing. This is thanks to the Open Graph protocol.
Now you can do the same with Google. By specifying content types, Google will prize you by publishing your content directly in the search results.
Check how Google is interpreting your content with the Structure Data Testing Tool.
Page Speed

If your mobile site takes more than 3 seconds to load, half of the people will leave. That's why Page speed is a ranking factor for Google.
Use the PageSpeed Insights tool to check how fast your site is loading.
Voice search?

It feels weird search by voice command (at least to me.) I believe users feel more confident typing a word in a mobile's browser. I don't think this trend will go big, however, if you believe otherwise check this SEO for Voice Search guide by Neil Patel.
To recap: invest in increasing your site's speed, don't lose visits. Mark up your content so Google can show it to the users directly in the search results. If you need to spend money on upgrading your site's design, think mobile first.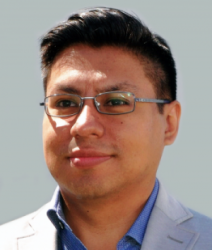 Latest posts by Leo Celis
(see all)