What's the missing opportunity of not using Chatbots? No matter how well designed is your landing page, your customer journey, or your call to action, some users want real-time answers.
They will have questions about shipping and problems entering their credit card. If you have millions of visitors, it is not crazy to think that a docent will leave because they couldn't talk to someone during the buying process.
Which leads me to the second question: Do you trust Chatbots? Users want to connect with humans. It is an expectation mismatch when they discover they've been chatting with a bot, no matter how advanced is the conversational AI.
Why do we need bots then? Because as a human, we can't handle tasks at scale. You don't have enough people or resources to answer every single request in real time. Bots allow us to automate tasks and scale.
What's the right way to approach to implement Chatbots? First of all, don't task your bot with being human. Second, give your bot one specific task, and be upfront with the users that the bot is an assistant, and human connection will take place soon.
HubSpot Chatflows is an excellent example of Chatbots. You can build a bot for a specific task, like welcoming visitors and asking them for their email address.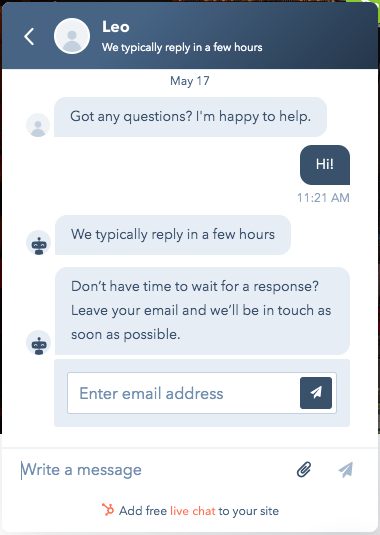 If you add a live chat, connected to a bot, to your site or landing page, you are serving that -small or large- percentage of humans looking for connection, to solve their needs, and creating a better experience for them.
Update – 6/28/19
I've recently tried MobileMonkey. It is a Facebook Messenger bots platform, with pre-written dialogues and audience insights. Give it a try for free!